At a glance
Do volunteer building work in Jamaica to improve living conditions in disadvantaged communities. You'll construct sanitation facilities, build playgrounds at schools, and renovate the homes of those in need. This project is a great way to get outdoors and give back using your own hands.
Beyond Jamaica's idyllic white beaches are communities without proper sanitation and other basic infrastructure. Many schools also don't have the funds to build playgrounds. You'll work with us to provide people with the infrastructure they need. You'll spend your days outdoors, doing practical work that produces visible results. You'll learn the basics of building under the guidance of the Projects Abroad building supervisor.
You live and work in Mandeville, and stay with a local host family. You're bound to have an exciting and unforgettable time as you experience everything Jamaica has to offer.
Anyone aged 16 or over can join
Is construction volunteering in Jamaica right for me?
Do you like to solve problems and help people using your own hands? Then our Building Project in Jamaica is the perfect fit for you!
Everything you do is part of our long-term efforts to help with community development in Jamaica. Where there aren't enough toilets, we build them. When children don't have a safe space to learn and play, we build a playground.
You don't need any previous experience to join. All you need is a willingness to do hard physical work. You will work under a building supervisor who will give you tasks and guide you through your work. So if you are independent and eager to get the job done, you'll do well here.
The project runs throughout the year, so you can join at any time. You'll need to stay for at least two weeks. We encourage you to stay for longer so you'll be able to complete more projects.
What do you do on the Building in Jamaica Project?
Get your hands dirty helping disadvantaged communities through building volunteer work in Jamaica. These are some of the main activities you focus on:
Build toilets at underprivileged schools for improved hygiene
Build school playgrounds so children can have a safe place to learn through play
Renovate and paint homes during building outreaches
Learn some basics to building like mixing mortar and digging foundations
These are some of the main activities you can take part in as a volunteer doing building work in Jamaica:
Build toilets at underprivileged schools for improved hygiene
Many schools and communities do not have accessible and clean modern toilets. This is a huge health risk. We'll give you the spade, and you'll help us build toilets. This will help improve the overall health of the children attending the school and prevent the spread of disease and infections.
Build school playgrounds so children have a safe place to learn and play
A major focus of this construction volunteer project is to create safe spaces for school children to play. You'll learn how to cut lumber and build different types of basic playground equipment. This will go a long way in helping the children learn through play and develop their motor skills.
Renovate and paint homes during building outreaches
Projects Abroad also organises regular building outreaches. We spend a day building at someone's home to improve their living conditions. You'll do things like paint, repair ceilings, fix doors, and help with any general maintenance. Many of the homes we visit are those of the elderly or disabled, or those who've been affected by natural disasters.
Learn some basics to building
You will learn basic building techniques from our qualified supervisor. You'll do things like mix mortar, dig foundations, and lay bricks. They'll supervise your work on site to ensure safety.
Where you work in Jamaica
Mandeville
You'll live in Mandeville and work in and around the city. Mandeville is the largest town in the Manchester parish. Many communities are disadvantaged, and there is a lot of need for better infrastructure, like modern toilets and safe playgrounds.
You need to be prepared to spend a lot of time outside in warm, tropical conditions. We'll make sure you stay hydrated during the hot days.
Jamaica's lush, mountainous interior is filled with attractions that will make any adventurer's heart beat faster. Waterfalls and hiking trails are especially popular. Mandeville is also located around a 2.5 hour drive from Montego Bay, a town popular with tourists.
Typical Day on the Building Project in Jamaica
You will work from Monday to Friday at your building placement. You'll begin at 8:30am and, depending on your progress and how far the project is developing, you will work until around 3:00pm.
Most of your work will be outdoors, so you'll be out in the tropical air and warm sun during your work hours. Don't forget your hat and sun lotion!
While you work, or during your breaks, you can interact with people from the community. You can listen to their stories and share some of your own. Your building supervisor will also be able to share his/her knowledge of the surrounding communities with you.
When your work is done for the day, you can explore the town. At the end of your day, you'll return to your host family for a delicious home-cooked meal, and talk about all the day's activities.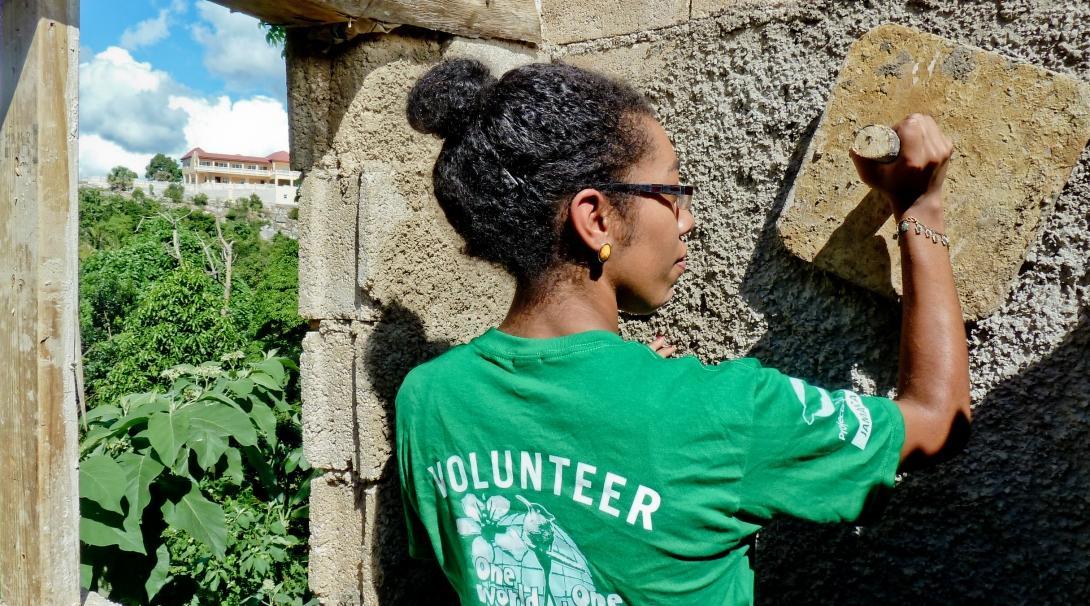 Aims and Impact of the Building Project in Jamaica
The aim of this project is to provide disadvantaged communities with the infrastructure they need to improve quality of life.
In Jamaica, a lack of water and sanitation facilities in homes has lead to a higher rate of health issues. These include skin infections, viral infections, and water-borne diseases. One of our focuses at the project is to provide communities with clean, safe toilets and better methods for collecting and disposing of dirty water. This will help reduce the associated health problems. Having access to toilets also gives dignity back to the community.
We also build playgrounds. Many schools don't have the funds to build their own, so we've stepped in to help. By giving children a safe space to play in, we're supporting early childhood development.
Lastly, we need your help to renovate the homes of people living in poor conditions. People living with disabilities or little income can't afford to make improvements to their homes. We're working to change this by renovating homes. We also renovate houses that have been damaged by natural disasters.
The key goals of this project include:
To upgrade learning environments at schools by building playgrounds
To install water harvesting and indoor plumbing solutions at homes
To construct bathroom facilities at schools and homes without indoor sanitary facilities
To reduce the number of families living without bathroom facilities or access to domestic water
To train beneficiaries on how to maintain the systems received
To improve the health and social status of the most vulnerable
Join us to help build better infrastructure in Jamaica for communities in need.
Measuring Our Impact
Our projects work towards clear long-term goals, with specific annual objectives. Every volunteer and intern we send to these projects helps us work towards these goals, no matter how long they spend on our projects.
Every year we take a step back and look at how much progress we've made towards these goals. We put together a Global Impact Report, which documents our achievements. Find out more about the impact our global community of volunteers, interns and staff make, and read the latest report.
Food And Accommodation
You'll stay with a host family in Mandeville. They will welcome you into their home, eager to share their customs and have you teach them about your own culture. We believe that this is the best way to immerse yourself in the culture of Jamaica and have a truly unique experience.
We will always try to let you live alongside at least one other Projects Abroad volunteer or intern at the same host family. Your room will be modest, but comfortable, clean, and safe.
Your programme fee includes three meals a day.
Find out more about our accommodation.
Leisure Activities And Free Time
When you think of the tropical Caribbean, Jamaica is one of the first countries that comes to mind. With its white-sand beaches and vibrant culture, this island nation has a lot to offer. It's an amazing location to volunteer in, and explore during your free time.
The local cuisine is definitely worth trying, with tasty dishes like Jamaican patties and jerk chicken. You can enjoy these at seaside restaurants and then head down to the sea for a cooling swim in the ocean.
With a rich culture and friendly locals, exploring markets and museums is a must-do. Visiting the famous Bob Marley Museum in Kingston makes for an enlightening weekend trip. While you're there, you can also tour Fort Charles and the National Heroes Park.
There will be other volunteers working on different projects in Jamaica while you're there. This means you can choose to explore independently or connect with other volunteers and travel as a group.
Safety And Staff Support
Your safety and security is our prime concern. We have many procedures and systems to ensure you have the support you need to enjoy your trip with peace of mind. Our Projects Abroad staff are available 24 hours a day to help, and will be on-hand to make sure you settle in well at your accommodation and placement. If you encounter any problems, they will be available to help at any time.
Find out more about safety and backup.
Not quite what you're looking for?
Take a look at the following pages where you'll find collections of similar projects: