Fight for women's rights as a volunteer abroad. In many countries, women are marginalised and are often raised without the ability to speak up. They're discriminated against in various areas with many women never receiving basic education. Without the opportunity for skills development, women and their families end up in a continuous cycle of poverty.
We believe that education is the key to change. When you join one of our women's rights volunteer opportunities, you'll promote gender equality in communities and empower young girls and women as a volunteer abroad.
On our women's empowerment projects abroad, you can:
Run skill development classes for local women
Promote gender equality among children at schools and in the community
Raise awareness about the importance of women's empowerment
By providing women with the necessary skills to succeed, you'll open up a future with more opportunities. You'll help alleviate the poverty cycle and create a more secure future for both women and children around the world.
Choose a Women's Empowerment Project
1-2 of 2 Projects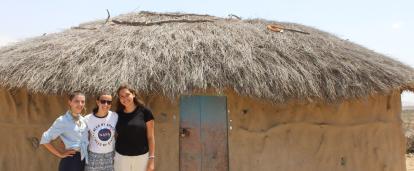 Take a Gap Semester Abroad in East Africa
See this project
Price:

$7,725 AUD for 6 weeks

Extra Weeks:

$570 AUD

Start Date:

Throughout the year

Minimum Stay:

6 weeks

Age:

17-24
Women's Empowerment in Tanzania
See this project
Price:

$2,995 AUD for 1 week

Extra Weeks:

$530 AUD

Start Date:

Anytime

Minimum Stay:

1 week

Age:

16 or over
Can't find what you're looking for?
We'd be happy to talk about creating a custom project for you. Most of our staff have been volunteers themselves, so they're well placed to answer your questions, big or small.
08 7130 3970
or email:
Get in Touch
to start planning your project
Is a women's empowerment project abroad right for me?
If seeing women succeed is something you're passionate about, then our women's empowerment programmes abroad will be a perfect fit for you!
You'll promote women's rights while teaching skills to women that encourage them to reach their full potential.
No prior experience is required to join a women's rights volunteer opportunity as our staff provide full training. If you have a specific skill set that will benefit local women, then our staff can help facilitate training sessions. This is a great opportunity to gain practical experience, develop your leadership skills and share your knowledge.
Our women empowerment programmes abroad are especially useful if you are pursuing a career in social work or international development. However, you might find the following projects are more suited to you:
What will I gain on a women's empowerment project abroad?
As a volunteer promoting female empowerment abroad, you'll make a real difference in the lives of marginalised women while developing your own skills.
This international work experience will strengthen your CV and give you many interesting topics to discuss with future employers and university recruiters. Here are just a few things you'll gain:
Soft skills like teamwork, leadership, resilience, organising, planning, and time management.
Practical work experience for your CV to help you break into a competitive sector
The ability to work and empathise with people of different cultures and backgrounds, helping to develop a 'global mindset'
Confidence from pushing past your comfort zone
All of the above will enhance your CV, UCAS applications, and your personal development.
Why does empowering women abroad matter?
In many countries around the world, women are marginalised and not provided with the same opportunities as their male counterparts.
Women aren't granted the same rights as men. Poverty creates a vicious cycle, where families don't feel like they can afford to educate girls, since males are the primary breadwinners.
The lack of education creates a situation where women are dependent on their men and have a hard time making a living. When women have skills and earn a sustainable income, they also gain independence, respect and a voice in society.
Empowering women and promoting gender equality is a way to reduce poverty and invest in both children and women. Gender equality is crucial to the future growth and progress of many developing countries. On a women's empowerment project in Africa for example, you'll help budding female entrepreneurs build and maintain their businesses, or educate women on their human rights.
How are Projects Abroad's women empowerment volunteer programmes different?
At Projects Abroad, our first aim is to benefit the communities we work in. You can be assured that your project is ethical, well supported, and part of a better future. Here's just a few elements of our work that set it apart from other volunteer projects:
Be fully supported by staff
We don't expect our volunteers to be experts in women's rights. On our women's empowerment projects abroad, you'll work alongside members of the local community and Projects Abroad staff. They will help you plan your work and be on hand to advise you as and when you need help. You'll also be part of a wider network of volunteers. In each project, there is a full-time member of staff who job it is to support our volunteers.
Recording our work in a secure database
We have created a Global Impact Database so we can track the positive impact our projects have. This is a secure and anonymous database that we use to identify specific areas of need.
Projects that have an impact
All of our projects, including our women empowerment volunteer programs are well researched, targeted, and sustainable. We aim to make a difference to the local community for the long term.
We're about a lot more than pitching up and pitching in. We stand apart from other volunteer projects, as we're guided by annual reviews and thorough needs assessments which are brought together in our Management Plans.
For us, bringing this level of professional strategic thinking to each project like on our women's rights volunteer opportunities is a crucial part of making sure that our volunteers and the communities we serve both get the outcomes they need
Our Child Protection Policy
We take the safety of the children and young people we work with very seriously. That's why we've put together a comprehensive Child Protection Policy.
Not quite what you're looking for?
Take a look at the following pages where you'll find collections of similar projects: