Once you've done international conservation volunteer work with us, you'll never quite see the world in the same way again. You'll experience the beauty and vulnerability of nature, and work with an international team to help protect endangered wildlife. We share the same goal: to protect our planet for years to come. So get your backpack because you're going on an environmental travel adventure!
Our environmental and wildlife conservation projects cover an incredible range of species and environments, from mountains at the top of the world, to the islands that inspired Darwin to ponder the origin of life. If you love working on projects to help the environment and animals, you can unleash your passion in different ways like:
Protect the Big 5 and work with animals like elephants, lions, and leopards at a nature reserve on one of our African wildlife conservation projects.
Explore the rich biodiversity and wildlife in the Galapagos Islands in Ecuador.
Support wildlife rehabilitation at the renowned Taricaya Ecological Lodge in the heart of the Amazon. You'll see animal rescue and rehabilitation in action.
You'll support and learn from professional environmentalists and scientists, as well as people from the local community. We offer safe, ethical, and sustainable wildlife and environmental conservation projects, and you'll always be aware of the impact of your work. In addition to making a difference on an animal care program, you'll develop important skills for working in wildlife conservation. These include reforestation efforts and scientific research methods.
We're here to help you choose the project that lets you pursue your passion for animals and nature. Read about our best animal volunteer projects abroad, or if your interests are drawing you more to ocean depths, check out our Marine Conservation Projects.
Gain Academic Credit
As a wildlife volunteer, you can sign up for our Diploma in International Volunteering. This has the option to specialise in Wildlife Conservation, designed to pair perfectly with our animal volunteer programs. You'll gain academic credit while you volunteer, giving your university applications an extra boost.
Choose a Conservation Project
1-3 of 23 Projects
Africa's Big 5 and Wilderness Conservation in Botswana
See this project
Price:

$3,820 AUD for 1 week

Extra Weeks:

$655 AUD

Start Date:

July and August

Minimum Stay:

1 week

Age:

16 or over
Giraffe & Lion Conservation in Kenya
See this project
Price:

$3,545 AUD for 1 week

Extra Weeks:

$580 AUD

Start Date:

Anytime

Minimum Stay:

1 week

Age:

16 or over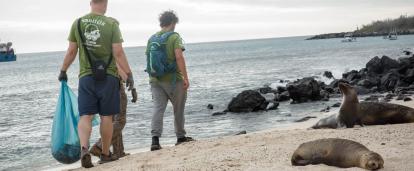 Take a Gap Semester Abroad in South America
See this project
Price:

$9,275 AUD for 8 weeks

Extra Weeks:

$650 AUD

Start Date:

Throughout the year

Minimum Stay:

8 weeks

Age:

17-24
Load More
Can't find what you're looking for?
We'd be happy to talk about creating a custom project for you. Most of our staff have been volunteers themselves, so they're well placed to answer your questions, big or small.
08 7130 3970
or email:
Get in Touch
to start planning your project
Is an Environmental and Wildlife Conservation Project right for me?
Our Conservation & Environment Projects are ideal for people who want to help with environmental conservation efforts, and carry out fieldwork in fascinating habitats. You'll be given the relevant training when you arrive, like reforestation techniques or setting camera traps, so there's no need for previous animal work experience. A passion for wildlife conservation and your explorer's hat are great starting points!
These projects are a good fit for anyone interested in the outdoors and environmental volunteer opportunities. You'll be actively involved in conservation efforts, which includes educating local people about the importance of protecting the environment. Your work may include doing research, collecting data in the field, reforestation, and more.
If you're looking to complete a conservation internship abroad, we've got just the thing. Read our blog on Wildlife Conservation internships, where we give you the lowdown on how to help the environment and animals.
If you're interested in animal work experience, but feel a Conservation & Environment Project isn't right for you, you may be interested in our Veterinary Medicine & Animal Care Projects. Read our full list of projects for volunteering abroad.
What will I gain from an animal project overseas?
As an international conservation volunteer in the heart of natural environments, you'll give back to a community that needs help while developing your own skills.
Here are just some of the benefits that our previous volunteers talk about:
Knowledge of practical conservation and environmental sciences.
Soft skills like teamwork, communication, leadership, resilience, organising, planning, and time management.
The ability to work and empathise with people of different cultures and backgrounds, helping to develop a 'global mindset'.
Confidence from pushing past your comfort zone.
All of the above will enhance your CV and your personal development.
Why does animal behavior and wildlife conservation abroad matter?
Protecting our planet is more important than ever. As the human population increases, natural habitats and resources are declining. This has a devastating impact on wildlife and vulnerable ecosystems. They cannot recover and begin to thrive once more without our help.
In today's fast-paced society, it's easy to feel like part of the problem rather than the solution. Now's the time to start making a worthwhile contribution, so that future generations can enjoy our planet for years to come.
How are our Conservation Volunteer Projects Abroad different?
At Projects Abroad, our first aim is to benefit the communities and environments we work in. You can be assured that your project is ethical, well supported, and part of a better future. Here's just a few elements of our work that set it apart from other environmental and conservation organizations:
Be fully supported by staff
You'll work alongside members of the local community and Projects Abroad staff. You'll also be part of a wider network of volunteers. On each project to help the environment, there is a full-time member of staff whose job it is to support our volunteers. They'll work with you to make sure you spend your time in a way that genuinely makes an impact and brings value to the project you visit.
In addition, many of our staff at Conservation Projects are experts in the field, with years of training and practical experience under their belts.
Recording our work in a secure database
We created a Global Impact Database so we can track the positive impact our projects have. This is a secure and anonymous database that we use to identify specific areas of need. We can also monitor individual projects to track their development.
For example, at our Conservation Project in the Galapagos Islands, volunteers removed 50% of the invasive black rat population in a petrel nesting area in 2018. Since the removal, 142 petrel chicks and 32 nests were recorded. By collecting this data and adding it to our database, we can show the tangible impact of our work through facts and numbers across specific periods of time.
Projects that have an impact
All our projects are well researched, targeted, and sustainable. We aim to make a difference to the local community for the long term, as well as the animal species we work with.
Our Animal Protection Policy
We take protecting the animals and wildlife we work with very seriously. That's why we've put together a comprehensive Animal Protection Policy to help guide our animal behaviour and wildlife conservation projects.
Not quite what you're looking for?
Take a look at the following pages where you'll find collections of similar projects: