Volunteers often describe our Team Trips as the trip of a lifetime. You get to join a group of like-minded individuals for a set time, to carry out your important volunteering projects and build lasting friendships.
You'll meet new people from around the world and be brought together by a common goal. The dates, duration, and itinerary are all fixed, giving you the freedom to focus on your project.
These trips are perfect to fill a limited holiday period like university breaks or experience a new country for a specific season.
You'll live and work alongside your team and Projects Abroad staff, for an experience like no other.
Choose a Team Trip
1-3 of 43 Projects
Building Volunteer Work in Jamaica with a Group
See this project
Fixed dates throughout the year
Anyone aged 18 or over can join
From 1 week
From $3,245 AUD
Building Volunteer Work in Nepal for Groups
See this project
Fixed dates throughout the year
Anyone aged 18 or over can join
From 2 weeks
From $3,120 AUD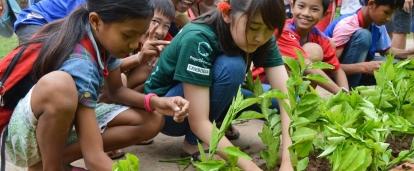 Childcare Volunteering for Groups in Cambodia
See this project
Fixed dates throughout the year
Anyone aged 18 or over can join
From 1 week
From $2,645 AUD
Load More
Can't find what you're looking for?
We'd be happy to talk about creating a custom project for you. Most of our staff have been volunteers themselves, so they're well placed to answer your questions, big or small.
1300 132 831
or email:
to start planning your project
What is a Team Trip?
Our Team Trips bring together a group of people for a set time and itinerary. This means you don't have volunteers coming and going during your project. You'll get to see a Project from start to finish, and really get to know the people you're working with.
These trips run for set periods of time, such as university holidays or seasonal breaks, like Easter and Christmas. Your time will be spent doing your volunteer project and organised trips and activities.
Anyone from around the world can do a Team Trip, so you'll get to meet new people from different cultures and backgrounds.
Is volunteering abroad with a group right for me?
Our Team Trips suit those who want to build a real bond with those they're volunteering with. We see our teams overcome challenges and share new experiences, creating friendships for life. If you want to volunteer in a really sociable environment, this is the option for you.
You'll also be well suited to a Team Trip if you're looking for a worthwhile way to spend a holiday period or season.
If you're interested in our Team Trips, but would like more flexible start and end dates, you may be interested in our Flexi Trips. Read our full list of trip types here.
What will I gain from a group volunteer trip?
All our trips are designed to help you make the most of your time abroad and your volunteer project. Previous volunteers from Team Trips talk about:
You'll get to know new people from around the world.
You'll develop a strong bond with your team as you volunteer together.
You'll be able to spend your breaks doing something worthwhile for disadvantaged communities while development new skills.
You'll develop better soft skills such as communication, leadership, teamwork and resilience.