Cambodia isn't usually on people's bucket lists. Outside of Southeast Asia, most people don't know much about its rich history, culture, food, and beautiful sites. Even though it's less developed and not as popular as its neighbor Thailand, Cambodia is definitely worth visiting - and we're going to tell you why.
Aside from the incredible and ancient Angkor Wat temple and the tragic genocide by the Khmer Rouge Regime, there is much more to know about this fascinating country. No matter how much I prepared for my first trip to Cambodia, many things surprised and confused me once I arrived. There was a whole lot more for me to learn!
If you're traveling in Cambodia for the first time, I hope my first impressions can give you some idea of what to expect.
1. The first thing you'll notice? It's very hot!
Depending on which country you're coming from when you land at Phnom Penh airport, you may experience a climate shock. Arriving from Paris in January, I faced a huge temperature difference (around 30°). The weather in Cambodia is hot all year long, even at night. After a couple of weeks though, I started to adjust. Be prepared to sweat and drink a lot of water!
Talking about the heat, you may be surprised by the way locals dress. I was shocked to see many Cambodians wearing long sleeves and pants in high temperatures! When discussing the heat with locals, they told me that they couldn't bear temperatures below 20°. It would be hard for them to adapt to an European climate, the same way it is hard for me to adapt to what feels like a European summer.
With such a tropical climate I had to get used to the many mosquitos trying to bite me. Friendly advice: don't forget to put insect repellent on, especially when you go out at night!
Traffic in Cambodia is intense! When landing in Phnom Penh, one of the first things that I noticed on the way to Projects Abroad's accommodation, was the huge number of vehicles on the road. As the airport is located inside the city, I emerged straight into a concrete jungle of tuk-tuks, motorbikes, cars, and vans once I left the airport. It seemed to me that there is only one rule here: honking the horn to make your way through the traffic jams.
The city isn't pedestrian-friendly. There aren't many actual sidewalks, which is unusual for most visitors. However, it means that there's always an available tuk tuk to take you where you need to go. Despite seemingly chaotic traffic, drivers know what they're doing, and traffic ends up moving slowly most of the time due to traffic jams. I soon enjoyed being driven in the city.
3. The streets are lively - but dirty
Between shops, bars, markets, street food stands, and other businesses, there is plenty of entertainment and bustling activity on the streets. I got the feeling that everything is happening there, from work to social activities!
Unfortunately, I also observed big piles of trash waiting to be collected on some streets. It gave me a concrete example of the global plastic pollution issue, seeing so much plastic trash on the roads. The streets, not always well paved, are also quite dusty. Be prepared to wash your shoes many times during your time in the country.
4. Inequality is in plain view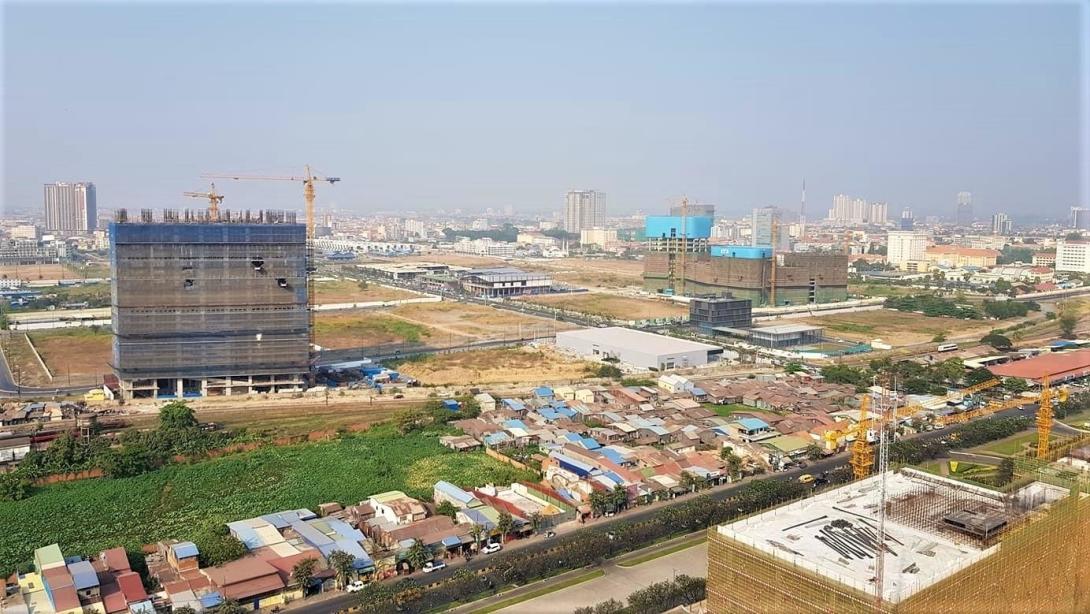 Inequalities in Cambodia between the very rich and the poor is something that I immediately noticed in the streets of Phnom Penh. There is a big contrast between fancy sports cars and SUVs that I was surprised to see, and rusty motorbikes that carried up to three people.
These inequalities were even more obvious looking at the cityscape. I saw many new building developments in town and countless ongoing constructions, which seem to indicate rapid growth in the city. On the other hand, I noticed many slums, as well as children begging for money on the streets.
5. Food is delicious and diverse
Street food is everywhere in Cambodia, from roadside to the local markets. The most surprising Cambodian delicacies that I found were fried insects and tarantulas. I still need to find the courage to try it!
Aside from these unusual options, there are many food options in the city. I recommend that you try traditional Khmer food, which is full of flavour and and relatively mild in terms of spiciness levels. No trip to Cambodia is complete without having eaten Beef Lok Lak or Fish Amok!
Staying at the Projects Abroad volunteer house in Phnom Penh, I was amazed by the quality and diversity of food that is freshly cooked everyday (seafood, beef, chicken, local vegetables, tofu, exotic fruits, etc.).
6. Eating out is cheap, unlike supermarket shopping
Coming from a Western country, food and drinks in Cambodia seemed very cheap to me. Aside from touristic restaurants, you can expect to eat a meal for between $1 and $3 at a local restaurant! Try to find where the locals eat, and you'll be able to enjoy a delicious and affordable lunch or dinner.
The same goes for drinks. On the riverfront of Phnom Penh, you can have a beer or a Coca Cola for less than $1.
On the other hand, I was surprised by the cost of goods in supermarkets. As many products are imported, they're usually more expensive than in Europe. So keep in mind that it can get pricey to purchase the same branded products you'd usually get in your home country. For example, a box of Ferrero Rocher chocolates might cost you $12!
7. There are countless signs of Buddhism
In or outside of the city, Cambodia hosts many temples, pagodas, stupas, and other signs of Buddhism. I was amazed by the beauty of the architecture in the Royal Palace of Phnom Penh and at Oudong mountain. I also regularly notice monks walking the streets of Phnom Penh with their traditional orange saffron robe. It reinforced my feeling that religion plays a big role in the daily life of Cambodians. You don't see priests walking the streets of Paris, New York, or Sydney!
Visiting religious sites confirmed my impression. As a sign of respect, I had to cover my knees and shoulders and remove my shoes to enter a temple.
8. People are friendly and joyful
From the very first interactions I had with Cambodians, it was easy to tell that they're genuinely friendly. They always have a smile on their face when chatting with you and are always happy to offer their help. I was offered food many times, which was another great example of their generosity.
I also quickly noticed that Cambodian people laugh easily, which makes conversations with them quite enjoyable. Like many other Asian countries, they love singing and I was impressed by their performance in karaokes. If there is one country to cheer you up, that would be Cambodia!
9. There are surprising cultural particularities
Cambodian culture is quite different from most Western cultures. I soon got used to removing my shoes to go inside many places. Entering people's home with your shoes on is considered disrespectful because you bring dirt with you. I was soon very happy to walk shoeless most of my days.
Regarding Cambodian people, it was surprising to me that they wouldn't tell me when they didn't understand me. A few times, I received ''yes'' as an answer to an open-ended question which was very confusing at first.
The concept of time in Cambodia is another thing that I found different here. People don't seem to rush for anything. For example, I noticed that restaurant customers would often serve one person at a time. There were also a few times where my local coffee shop didn't have coffee in the morning. True story! Locals seem to live one day at a time, far away from the stressful way of life in Western cities.
Explore Cambodia with Projects Abroad
Now you have a better idea on what to expect upon arrival in Cambodia. There's obviously much more for you to discover on one of our volunteer projects. You'll learn a lot from the locals, while supporting l disadvantaged communities.
If you want to fully experience what the country's all about, you can also join one of our Authentic Adventures. Our Discovery Tour will take you on a journey of cultural immersion, from ancient to modern Cambodia. If you're more of a foodie, you can join a culinary journey that will teach you all about Khmer cuisine during our Food Tour in Cambodia!