Are you a psychologist in training, who cares deeply about other people's wellbeing? Our mental health volunteering opportunities are a chance to experience the field of psychology first-hand in a different environment. You'll gain skills and experience needed to succeed in a psychology career, while providing vital support to patients with mental health concerns.
On a Psychology Internship abroad, you can expect to:
Help tackle mental health issues in Jamaica or Mongolia by working alongside psychologists.
Improve your career and education prospects by observing, assisting, or carrying out mental health research across a wide variety of cases.
Boost your personal and professional development by immersing yourself in the local culture, as you help to increase mental health awareness and learn about mental health in a different country.
Where Can Psychology Students Intern?
University students looking for psychology summer internships abroad can gain a lot from doing international volunteer work. You'll have a unique chance to gain a fresh perspective on mental health by being exposed to new challenges. At the same time, this is an exciting opportunity to travel and experience a new culture.
We currently offer Psychology Internships in two countries: Jamaica and Mongolia.
Psychology Internship in Jamaica
In Jamaica, you'll take part in play therapy as well as individual and group counselling sessions. This work occurs in the town of Mandeville, around 60 miles west of the capital, Kingston.
On your time off, you'll be free to explore this stunning island. After working hard on your psychology internship, care for your own mental health by relaxing at a reggae concert or letting off steam with a river rafting adventure.
Psychology Internship in Mongolia
In Mongolia, you won't be able to treat mental health patients directly, but your observational and research work will be invaluable. In the capital city, Ulaanbaatar, you'll gain first-hand experience of the problems developing countries face regarding mental health and what they're doing to improve the situation.
Try to venture out of the capital, if you can. Mongolia is a unique country of vast open plains and wandering nomads. The Mongol Empire was one of the largest ever, offering a rich and fascinating history for visitors to explore.
Best times of Year to Do a Psychology Internship
In order to join our mental health volunteer opportunities, you should be working towards a psychology qualification or similar. Therefore, you'll likely be a student interested in a psychology summer internship abroad.
Summer is a popular time for interns to travel abroad with us because summer internships allow you to gain psychology experience even when you're not studying. We also offer mental health internships as part of a gap year for psychology students. You can choose the most convenient time for you, by taking advantage of our completely flexible dates.
Leave the logistics to us, as we want to make your trip as hassle-free as possible. This allows you to dedicate your time and energy to discovering what you're capable of. Whatever time of year you choose to do an internship abroad, you'll be covered by our gold standard of staff support, helping to ensure your safety overseas.
How to Volunteer in Psychology
Once you've decided whether to go for the practical role in Jamaica or the more observational role in Mongolia, it's time to take steps towards your dream psychology internship!
Each programme has slightly different requirements, but you should be studying psychology or a related subject. For the Jamaica project, you're also required to be working towards a psychology or social work degree, or have a guidance counselling qualification.
Don't hesitate to contact our Project Experts for more advice on which Psychology Internship is right for you. You can then fill in the application form, and let your adventure begin!
Choose a Psychology Internship
1-2 of 2 Projects
Psychology Internship in Jamaica
See this project
Price:

$3,775 AUD for 2 weeks

Extra Weeks:

$530 AUD

Start Date:

Anytime

Minimum Stay:

2 weeks

Age:

16 or over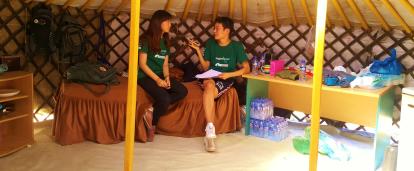 Psychology Internship in Mongolia
See this project
Price:

$3,200 AUD for 2 weeks

Extra Weeks:

$480 AUD

Start Date:

Anytime

Minimum Stay:

2 weeks

Age:

16 or over
Ready to Give Your Career a Boost with a Psychology Internship?
Contact Us to Get Started!
08 7130 3970
or email:
Get in Touch
to start planning your project
Looking for Something Else?
We also offer internships in Social Work.