At a glance
This is a golden opportunity to get a deeper insight into Cambodian culture while travelling and exploring with a group your own age.
You'll take part in cooking classes, learn basic Khmer, and discover the history of the Angkor Wat temples.
Is a Khmer cultural experience in Cambodia right for me?
If understanding and exploring the depths of a new culture is something that appeals to you, then our cultural immersion project in Cambodia for older adults is for you. You'll have the opportunity to travel and do something different with a group of people your own age.
This project is perfect for people who are retired, or have taken time off work to travel and give back to a community abroad. You don't need previous experience to join, as you'll be focused on learning and experiences. This is a great way to pursue personal enrichment, and to travel safely with a group of likeminded people.
Our Grown-up Special in Cambodia is designed specifically for people over the age of 50. Our staff have put together a two-week itinerary filled with activities and trips. You'll explore temples, visit museums, and more. You'll do all of this with a group, and Projects Abroad staff will be with you to offer support.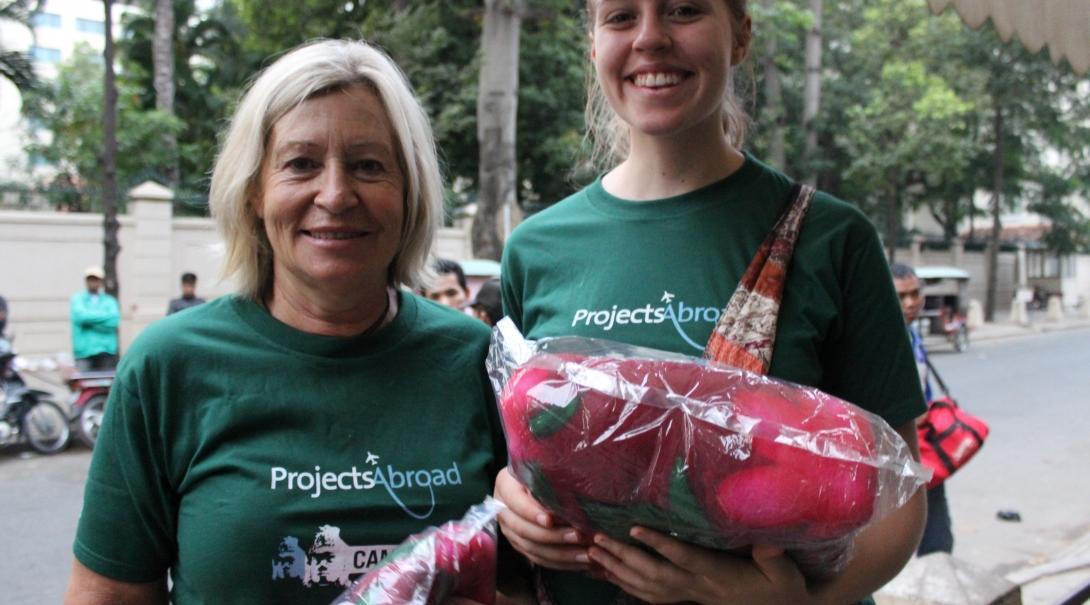 What will I do on the Khmer cultural immersion Grown-up Special in Cambodia?
Seize the opportunity to experience Cambodian culture first-hand, while also giving back to the community. Here are a few of the activities you'll be involved in:
Immerse yourself in the Khmer culture and experience life in Cambodia
Learn more about Cambodia and its harrowing history of the Khmer Rouge era
Your work will focus on the following main areas:
Immerse yourself in the Khmer culture and experience life in Cambodia
As part of your project, you'll get to experience the Khmer culture through different activities. You'll interact with Cambodians every step of the way and learn about their way of life. You'll learn the art of puppet making, gain skills in traditional Khmer cooking, and we'll teach you a few basic phrases in Khmer.
Learn more about Cambodia and its harrowing history of the Khmer Rouge era
Cambodia has gone through a significant change since the civil war between 1975 and 1979. This brutal regime claimed the lives of over two million people and resulted in one of the worst genocides in history.
As part of your two-week trip, we have organised trips to places and monuments of historical significance. You'll visit the genocide and national museums, the famous Angkor Wat temples, and more. This will give you a deeper insight into the challenges Cambodian people face everyday.
Where in Cambodia will I be working?
Phnom Penh
Our Cultural Immersion Project in Cambodia for older adults is based in and around the bustling capital city of Phnom Penh.
The tourism industry in Cambodia is growing rapidly. Although Phnom Penh is undergoing more development because of influx of tourists, there is still a significant amount of poverty. Many communities remain severely disadvantaged, and access to services like healthcare and education can be limited.
During your project, there will be an assortment of activities. Each one will expose you to a different aspect of Khmer culture and Cambodian history. You'll also get to lend a hand at a school and a local farm.
Although you'll be based in Phnom Penh, you'll also get to visit other cities like Siem Reap, Kampong Chhnang, and Kampot. You'll see historical museums, pepper farms, the magnificent Angkor temples, and more.
What are the aims and impact of the Khmer cultural immersion project?
The aim of this project is to provide you with a culturally immersive experience in one of Asia's most fascinating countries. You'll get an insight into Khmer culture and the challenges Cambodian people face today, and we'll teach you about their history and traditions.
This experience goes beyond what you would get as a normal tourist.
Join us and take part in a unique Khmer cultural experience in Cambodia for seniors.
Management plans
We set out the aims and objectives of our projects in documents called Management Plans. We use them to properly plan the work you'll do. They also help us measure and evaluate our achievements and impact each year.
Ultimately, our Management Plans help us make our projects better. This in turn means you get to be part of something that makes a real impact where it's needed. Read more about our Management Plans.
Food and accommodation
You'll share accommodation with other Projects Abroad volunteers and interns during your stay in Phnom Penh. This is a great way to get to know your fellow volunteers and interns, share experiences, and explore your surroundings in your free time together.
The accommodation is safe, clean, and comfortable. Your programme fees include three meals a day.
Find out more about our accommodation.
Safety and staff support
Your safety and security is our prime concern. We have many procedures and systems to ensure you have the support you need to enjoy your trip with peace of mind. Our Projects Abroad staff are available 24 hours a day to help, and will be on-hand to make sure you settle in well at your accommodation and placement. If you encounter any problems, they will be available to help at any time.
Find out more about safety and backup.
Meet the team in Cambodia
Not quite what you're looking for?
Take a look at the following pages where you'll find collections of similar projects: