At a glance
Volunteer on our childcare project in Argentina and promote early childhood development through fun educational activities.
Give extra support to children who are struggling. This individualised attention is extremely helpful to them because many care centres are overcrowded and understaffed.
You'll live in the colourful city of Cordoba with a local host family who will treat you as their own. They'll introduce you to delicious cuisines and give you advice on the best places to visit during your stay.
Is volunteer work with children in Argentina right for me?
If you have loads of energy, take a playful approach to life, and enjoy the antics of little ones, Childcare in Argentina is definitely for you. You'll support early childhood development, which will give you valuable childcare experience. This is especially useful if you're planning on working professionally with children in the future.
No experience in childcare? No problem! You will be supporting the local teachers and caregivers. Projects Abroad staff members are close at hand to help guide you along. Throughout your stay, our staff will host regular workshops that will enhance your teaching and lesson planning skills. You'll also have access to our database filled with educational resources like games and arts and crafts.
This project runs all year round, so you can choose when you would like to join. We recommend staying longer, so you can make a bigger impact on the children.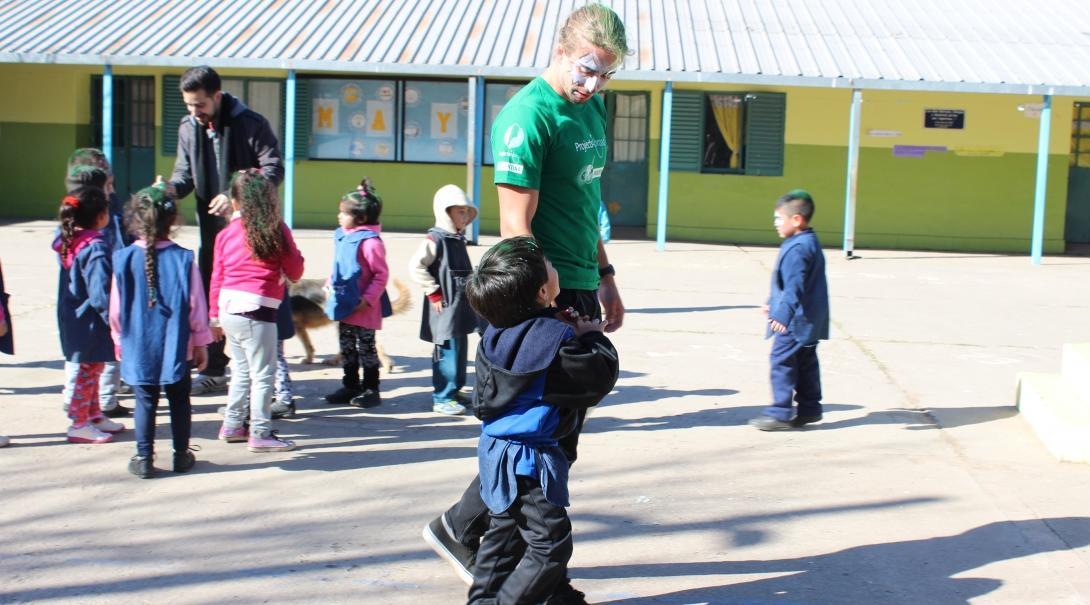 What will I do on the Childcare Project in Argentina?
Your main role will be to provide additional support to the local teachers and caregivers as they teach children at kindergartens and care centres. Here are a few things you can expect to do during your time there:
Teach children to read, write, and count during your lessons
Plan fun activities that educate and teach the children basic development skills
Raise awareness about the benefits of living a healthy lifestyle
Improve the quality of life for those living with disabilities
Your volunteer childcare work in Argentina will focus on the following areas:
Increase literacy and numeracy
Reading, writing, and counting are essential skills. You'll help children learn these skills, so they're better equipped to cope with the demands of the first year when they start school. You'll focus on those who are struggling, by teaching literacy and numeracy to small groups. You'll do basic reading exercises and assist with addition and subtraction.
Contribute to early childhood development
Fun activities that serve to educate and teach children basic skills is a fundamental aspect of a child's development. By making your lessons entertaining, you'll keep the children engaged in what they are learning.
You'll help the teachers and caregivers organise:
Sporting activities that encourage teamwork and the development of fundamental movement skills like catching, throwing, and balance
Music lessons that enhance logical thinking and creativity
Arts and crafts that teach the children about colours and shapes, and how to use their imaginations
Raising awareness about healthy living
Being healthy, staying active, and living in a clean environment are important for growing children. You will help us raise awareness about these issues through fun educational workshops. You'll cover topics like:
Good personal hygiene and the importance of washing hands regularly
Oral hygiene and how to brush teeth correctly
Why it is important to keep a clean living space
Healthy eating and being active
Improving the quality of life for those living with disabilities
You can choose to be placed at a facility where you help take care of children with disabilities. You can also help care for adults. At this placement, you'll assist with day-to-day activities such as meal times, exercise, and educational activities that help with development. You'll also monitor the patients and keep up-to-date records on our Global Impact Database that will assist future volunteers.
If you'd like to be placed at a special needs school or facility, let us know and we'll try our best to arrange your placement accordingly.
Where in Argentina will I be working?
Cordoba
You'll be based in Cordoba, a city with a vibrant culture and colourful street art. The communities you will be working in face many challenges. These include poverty, limited access to education, and drug use.
You'll be placed at care centres and kindergartens. If you're interested in working with special-needs children or adults, there are also various suitable placements. Many of these placements are basic and understaffed. This means that the children often don't receive the individual attention they need.
A typical day as a Childcare volunteer in Argentina
Your day will start with a hearty Argentinian breakfast, enjoyed with your local host family. After this, you'll catch public transport to the placement where you'll be working. On your first day, our staff will accompany you on your work commute. They'll ensure you are comfortable and know your way around.
A typical day will run from about 8am to 5pm, coinciding with kindergarten and daycare centre hours.
The aim of each day is to contribute to the development of young children that will help them succeed in the school system. You'll do this through:
Reading and role play activities that teach basic English
Counting games that teach basic addition and subtraction
Sports that improve kids' balance and other fundamental movement skills
Arts, crafts, or music lessons that enhance creativity and imaginative thinking
You'll also be able to take part in regular workshops, run by our Childcare Project Coordinator. These workshops will provide you with information about the care system, as well as tools and tips on how to organise your work. Use these workshops to receive and give feedback, and share ideas about different activities you can organise at your placement.
Evenings and weekends are your free time to relax and explore with fellow volunteers or new local friends. You can spend time trekking through the many national parks, or visit local attractions like Che Guevara's house.
What are the aims and impacts of the project?
The aim of this project is to improve early childhood development in disadvantaged communities in and around Cordoba. We do this by helping local teachers and caregivers offer young children a well-rounded educational experience.
In Argentina, kindergartens and care centres are often overcrowded. This means local teachers and caregivers struggle to divide their attention equally. Because of this, certain children may have trouble learning certain skills.
We're working to change this with the help of volunteers like you. To guide our work, we've identified five sustainable, long term goals that you'll work towards in Argentina:
Promote early childhood development
Increase literacy
Increase numeracy
Raise awareness about healthy living, the environment and family planning
Improve the quality of life for those living with disabilities
Help us achieve these long-term goals by working as a Childcare volunteer in Argentina.
Management plans
We set out the aims and objectives of our projects in documents called Management Plans. We use them to properly plan the work you'll do. They also help us measure and evaluate our achievements and impact each year.
Ultimately, our Management Plans help us make our projects better. This in turn means you get to be part of something that makes a real impact where it's needed. Read more about our Management Plans.
Measuring our impact
Our projects work towards clear long-term goals, with specific annual objectives. Every volunteer and intern we send to these projects helps us work towards these goals, no matter how long they spend on our projects.
Every year we take a step back and look at how much progress we've made towards these goals. We put together a Global Impact Report, which documents our achievements. Find out more about the impact our global community of volunteers, interns and staff make, and read the latest report.
Food and accommodation
You'll stay with a host family in Córdoba. They will welcome you into their home, eager to share their customs and have you teach them about your own culture. We believe that this is the best way to immerse yourself in the culture of Argentina and have a truly unique experience.
We will always try to let you live alongside at least one other Projects Abroad volunteer or intern at the same host family. Your room will be modest, but comfortable, clean, and safe.
Your programme fee includes three meals a day.
Find out more about our accommodation.
Leisure activities and free time
Argentina is a vibrant South American country bursting with colour and rich heritage. Along with contributing to worthwhile projects, a trip with us to Argentina means you can explore this fascinating country.
Enjoying a coffee at the Plaza de San Martin, with its street performers and iconic statue of General Jose de San Martin, is the perfect way to spend an evening. It's located in Cordoba, where our projects are based, so you don't have to travel far for this experience.
For thrill seekers, you can take a weekend trip to La Cumbre where you can go paragliding off lofty cliffs. The surrounding nature is breathtaking and a horse ride around nature trails here is well worth it.
There are also enriching cultural experiences, like the Evita Fine Arts Museum or the Teatro del Libertador General San Martin. You can also learn more about the country's history at local museums.
There will likely be other volunteers in Argentina with you. So you can choose to explore solo, or with a group of volunteers from different projects.
Safety and staff support
Your safety and security is our prime concern. We have many procedures and systems to ensure you have the support you need to enjoy your trip with peace of mind. Our Projects Abroad staff are available 24 hours a day to help, and will be on-hand to make sure you settle in well at your accommodation and placement. If you encounter any problems, they will be available to help at any time.
Find out more about safety and backup.
Not quite what you're looking for?
Take a look at the following pages where you'll find collections of similar projects: