At a glance
Help disadvantaged children improve their English.
You can also teach special educational needs and participate in a literacy programme.
Support local teachers in primary schools, and you can also teach at a school in a Maasai community.
You'll work with experienced local teachers to create lesson plans and plan games and activities to keep children engaged and actively learning.
Is volunteer teaching in Tanzania right for me?
Do you enjoy working with children? Are you interested in adding teaching work experience to your CV? Do you want to support disadvantaged communities? If you answered yes to any of these questions, this is the project for you!
You'll work with a local teacher, and get experience planning lessons and thinking of activities to get students learning. You'll need to think of ways to encourage your students to practice speaking English, so they can benefit from having you there as much as possible. Practical teaching work experience in Tanzania will boost your CV, and let you develop your teaching style. You'll also learn other skills, like organisation and classroom management.
You don't need previous experience or qualifications to join. You'll work with teachers, who can help you and answer your questions. You can also reach out to Projects Abroad staff at any time. In addition, we run regular workshops for all of our Teaching and Care volunteers. Here, you can discuss challenges and exchange ideas. We also have an online database you can draw inspiration from.
If you're interested in teaching other subjects, contact our Project Experts. They'll advise you on what subjects you can teach in Tanzania, and whether you can teach those subjects part-time or full time.
This project runs throughout the year, and you can join at any time. We encourage you to stay longer to make a bigger impact at your school.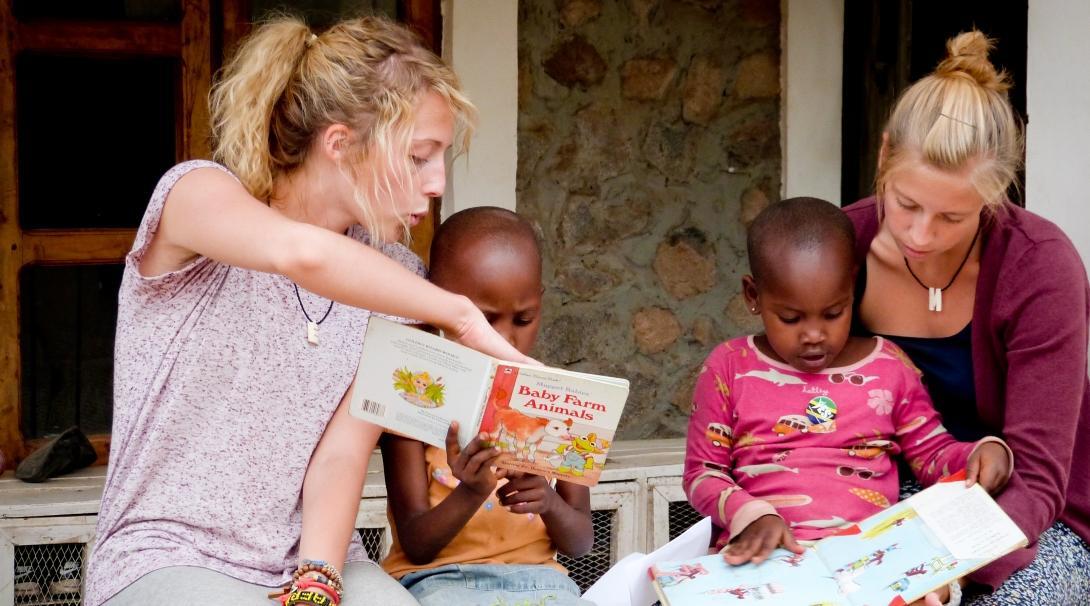 What will I do at my Teaching Placement in Tanzania?
As a Teaching volunteer, you'll work at a school alongside experienced local teachers. These are some of the tasks you can expect to do on this project:
Teach English to children and make classroom learning fun and interesting
Assist teachers with extracurricular activities such as music, sport, art and drama
Work with teachers to prepare lessons that are both exciting and practical
Help out at the local Maasai school
At your volunteer teaching placement in Tanzania, your work will focus on the following areas:
Improve the standard of English
Your main role is to teach English to primary school children. You will help students to understand the basics of grammar and pronunciation through exercises and spelling bees. You are encouraged to use games, flash cards, and other fun techniques to keep lessons interesting and teach the children new words. Ultimately, the goal should be to get students to practice speaking as much as possible.
Help teachers with extracurricular activities
Outside of teaching English, you can get involved with extracurricular activities in the afternoons, like art and sports. These classes are a wonderful opportunity for the children to embrace their creative sides, and teachers will definitely appreciate the extra help.
Prepare lessons
It is very important that every lesson is clearly planned, with a particular goal in mind. You will be expected to lay out these lesson plans, clearly defining the goals and objectives of each class. Lesson planning is an important skill to learn, and will look great on your CV.
We run regular workshops for all of our Teaching and Care volunteers, where you can get advice, ask any questions that you may have, and discuss any challenges you are facing. You will also have access to online resources where you will be able to see sample lesson plans and activities.
Help out at the local Maasai school
Projects Abroad has also set up a school for the Maasai children living on the outskirts of Arusha. These children have little or no access to education. We depend on volunteers like you to teach classes, so we can support their education. If you teach here, you'll prepare and teach all of your own lessons. You'll focus on improving literacy and teaching basic English.
Where will I be working in Tanzania?
Arusha
Arusha is a lively city located below Mount Meru on the Eastern edge of the Rift Valley, not far from the Serengeti National Park.
In Arusha, you also have the option of teaching at a Maasai school, a 30 minute drive outside of the city. You'll be placed here automatically if you can only teach in Tanzania for two weeks. This school is fully funded and run by Projects Abroad. We rely on the support of volunteers like you to keep it going. The areas is underdeveloped, so you can expect conditions to be very basic.
A typical day on the Teaching Project in Tanzania
A typical day will begin with a delicious local breakfast with your host family, before heading off by dala dala (local minibus) to a local school to teach. On your first day, you will be shown the best way to get to your school by Projects Abroad staff, and they will accompany you on your journey. They'll also introduce you to your new colleagues at the school.
Your morning classes will begin at 9am and run until 11am. You'll assist local teachers with preparing and teaching these classes. At the same time, you can also support their classroom management. Depending on your ability, you may teach classes by yourself. At the Maasai school, you'll work independently. You'll prepare and lead all of your own classes.
At 11am, there will be a break and the children will eat a meal. Afternoon classes begin at 11.30am and run until 1pm. Then you'll have a lunch break.
The school day ends around 2.30pm. Once classes are finished for the day, you can assist with extracurricular activities, go back to your host family, or explore the town.
What are the aims and impact of this project?
The aim of this project is to give children in rural Tanzania an opportunity to improve their English.
English is one of Tanzania's official languages, making it an important skill for people to learn. Speaking English can open the door to better employment opportunities in business or tourism. English is also the language of technology, commerce, and administration in Tanzania.
We are working to improve the level of English in Tanzania by supporting local teachers at disadvantaged schools in rural areas. By supporting their work, we can help give children skills they can use to succeed later in life. We're also focused on improving literacy, and making sure that young students learn in safe, clean environments. To do this, we need the help of volunteers like you.
We have five long-term goals that we are working toward at the Teaching Project in Tanzania:
Improve English
Improve the safety and cleanliness of the learning environment
Improve classroom support
Increase literacy
Improve teaching techniques
Help us achieve these goals by joining our Teaching Project in Tanzania today.
Management plans
We set out the aims and objectives of our projects in documents called Management Plans. We use them to properly plan the work you'll do. They also help us measure and evaluate our achievements and impact each year.
Ultimately, our Management Plans help us make our projects better. This in turn means you get to be part of something that makes a real impact where it's needed. Read more about our Management Plans.
Measuring our impact
Our projects work towards clear long-term goals, with specific annual objectives. Every volunteer and intern we send to these projects helps us work towards these goals, no matter how long they spend on our projects.
Every year we take a step back and look at how much progress we've made towards these goals. We put together a Global Impact Report, which documents our achievements. Find out more about the impact our global community of volunteers, interns and staff make, and read the latest report.
Food and accommodation
You'll stay with a host family in Arusha. They will welcome you into their home, eager to share their customs and have you teach them about your own culture. We believe that this is the best way to immerse yourself in the culture of Tanzania and have a truly unique experience.
We will always try to let you live alongside at least one other Projects Abroad volunteer or intern at the same host family. Your room will be modest, but comfortable, clean, and safe.
Your programme fee includes three meals a day.
Find out more about our accommodation.
Leisure activities and free time
A trip to Tanzania is the chance to experience life in the heart of Africa. There's plenty to see and do here during your free time on your project.
A project in Tanzania wouldn't be complete without a safari! This is a chance to see the beautiful wildlife of this country, like elephants, rhinos, and lions.
What's more, Tanzania is home to the highest mountain in Africa, Mount Kilimanjaro. Hiking around the base through lush vegetation is a peaceful way to spend an afternoon.
Browsing through a vibrant, local market is a must while you're there. You can also spend time in a Maasai village, getting to know a completely different way of life.
There will likely be many other volunteers in Tanzania with you. This means you have the option to explore the country independently or with a group of like-minded volunteers from different projects.
Safety and staff support
Your safety and security is our prime concern. We have many procedures and systems to ensure you have the support you need to enjoy your trip with peace of mind. Our Projects Abroad staff are available 24 hours a day to help, and will be on-hand to make sure you settle in well at your accommodation and placement. If you encounter any problems, they will be available to help at any time.
Find out more about safety and backup.
Meet the team in Tanzania
Not quite what you're looking for?
Take a look at the following pages where you'll find collections of similar projects: